This year, stay healthy and taste the good life!
Have a healthy, happy new year! While you're staying home to help fight the pandemic, why not cook up a few nutritious, delicious dishes for your family? But don't forget to keep exercising in between feasts!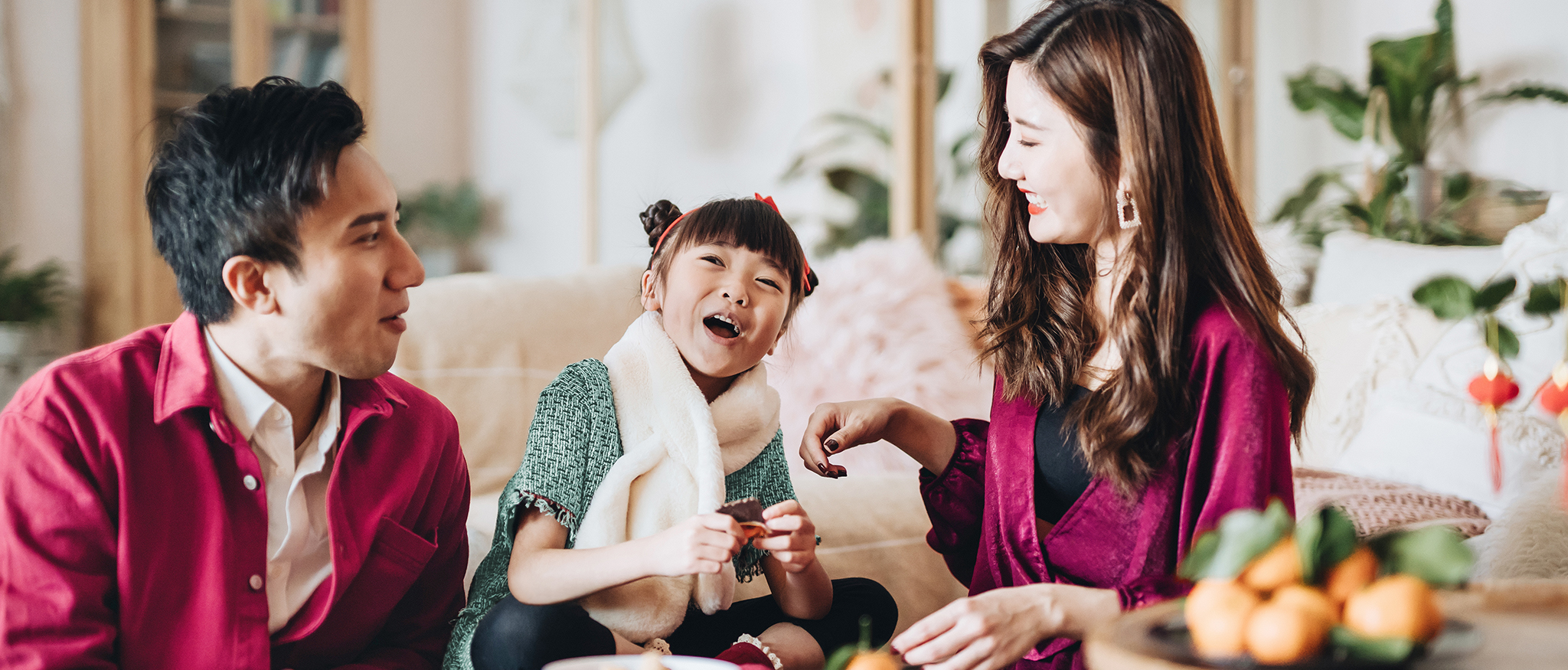 New year, new plan, new you
Here's everyone a healthy, happy new year! Even though you're heeding the call for social distancing and staying at home this Chinese New Year, you can find things to do to nourish mind and body. Read on to find some inspiration!
Take centre stage in the kitchen
Whether for full meals or just snacks, we all love the comfort food we eat at home. For anyone who's skillful with a skillet and can handle a ladle, cooking at home is also a good way to de-stress and unwind. This Chinese New Year, pamper the palates and warm the hearts of your loved ones with your own homemade turnip cake or braised mushrooms with dried oysters. With the help of a few well-chosen online recipes, you can make a meal fit for royalty! Since you're staying in more and dining out less, and some takeout food may not always be the most nutritious, go ahead and fill your home with the aromas of awesome, wholesome dishes created by the master chef in you!

While you're at home, indulge your passion for cooking! Check out the useful tips below, put on your apron, and get started on your favourite homemade dishes:
| | | |
| --- | --- | --- |
| Make use of the increasingly popular courier services to have the best ingredients delivered right to your door. | There are so many easy-to-do, interesting recipes available online, including some shared by Michelin-starred chefs, you can simply watch, learn and cook along. | Whether you're cooking at home or occasionally dining out, remember to take care of your nutritional needs and boost your immune system with healthy ingredients. |
Stay in, work out
Chinese New Year is the time to eat, drink and be merry, but hearty meals may often lead to extra pounds. It's not difficult to keep your body lean and fit though. All you have to do is maintain an exercise routine and burn calories daily. Revisit our recent article on home workouts, follow the recommended yoga, stretching and aerobic exercises to stay in shape and lower health risks. You'll look and feel great!

A hearty Chinese New Year meal may leave you with a heavy, bloated feeling afterwards. Due to the pandemic, though, it's not as easy as it normally is to help digestion by going out for a walk or some exercise. As you may be mostly at home, you can try practicing a few simple yoga poses when enough time has passed since your last meal. It'll help improve your digestion and raise your mental alertness as well.

(Please note: you should only practice the below yoga poses before eating. Depending on your physical condition, you should refrain from practicing yoga within 2-3 hours after eating.)
Simple yoga poses+

Half camel

Inhale and press the knee down, bend backwards, then place your hands on your lower back while looking up at the ceiling.

Half spinal twist

While sitting on the yoga mat, place your left foot over your right leg. Place your left arm behind your body and keep it straight. While you are breathing out, turn your body and neck to the left while looking straight ahead. Repeat the routine on the other side.

Seated forward bend

Lay your torso on your legs, stretch out forward and hold the sides of your feet. If you can't reach your feet, hold onto your legs at the furthest point you can reach then lean forward as much as possible.
Fitness tip:
Wear a smartwatch or use a health app while exercising to keep track of your fitness level and progress. It's like having a personal fitness coach to help keep you motivated.
They say the pandemic is a thief, it steals our quality of life. But as long as you can stay healthy and positive, there's nothing to stop you from moving forward!
+ This information shown is based on our preliminary interpretation of the general suggestion from a professional yoga teacher. The above yoga exercise may not be suitable for some individuals, we shall not be liable for any risk, potential injury, health issues or loss that may be caused by or relating to any of the above exercise. Please seek professional advice from your own professional advisor to determine the level and type of exercise suitable for you. We shall not have any responsibility for ensuring the reliability and/or the accuracy of the description and illustration of such yoga exercise.
Comments
Post a comment