Next Post
Learn about private hospital charges before choosing a VHIS plan
When it comes to choosing between public and private hospitals, most people would prefer the latter. But affordability is the biggest issue. Acquiring medical insurance is a long-term solution. How should you plan to make sure your needs will be met?
The medical standards in Hong Kong are internationally recognised, but medical costs have been rising steadily. Over the past 10 years, per capita annual medical expenses have risen by 99%1. Undergoing surgery and critical illness treatment at a public hospital is more affordable than at a private institution; but as everyone knows, there is usually a much longer wait for services, which is a problem when timely treatment is needed for a serious illness. Having a medical insurance policy gives you the option to receive appropriate treatment at a private hospital as soon as possible.
Surgical and hospitalisation charges at Hong Kong private hospitals
When you're planning your medical protection, the first thing you should find out are the costs. Taking a look at the following common diseases will give you a good idea as to how much private hospitals costs.
Colorectal cancer

When cancer strikes, mutating cells spread throughout the body to threaten the patient's life. Colorectal cancer is one of the most common life-threatening diseases in Hong Kong2. Generally, risk increases due to age, genetic factors and bad lifestyle habits. Early detection and treatment can boost a patient's chances of recovery.

 

 

Breast cancer

Breast cancer is another arch-enemy and one of the most common cancers suffered by women in Hong Kong2. On their doctors' recommendations, some patients undergo a lumpectomy or other surgical procedures in order to thoroughly remove cancerous cells. Many patients also choose to supplement it with breast reconstruction surgery afterwards, as restoring appearance and confidence are often considered important components of breast cancer treatment.

 

 

Coronary heart disease

Coronary heart disease is very serious condition. Arteriosclerosis can cause life-threatening myocardial infarction. Coronary artery bypass surgery is a common way to treat both acute and chronic coronary heart diseases. For public hospital non-urgent cases, however, there is a waiting period of 1 year8.

 

 

Bone fracture

Daily life can take us by surprise. A car accident, sports injury or even just a slip and fall in the bathroom could cause a bone fracture. If the ambulance took you to a public hospital, you'll be classified as an urgent, semi-urgent or stable new case. Semi-urgent new cases have a waiting period of several weeks before treatment can be provided. Understandably, you may want to transfer to a private hospital.

 

 
Does a VHIS policy offer sufficient protection coverage??
Aware that their group medical coverage may not offer enough protection, many employees supplement it with a VHIS policy, which can meet their medical needs even if they were resigning, changing jobs or becoming self-employed. But VHIS plans typically have itemised sub-limits, covering approximately 85% to 92%9 of medical expenses. Some plans offer full coverage# for hospitalisation and surgical expenses with no itemised sub-limits. As a result, customers will find it easier to plan their budgets and won't have to worry about unexpected costs. That's why these are options worth considering.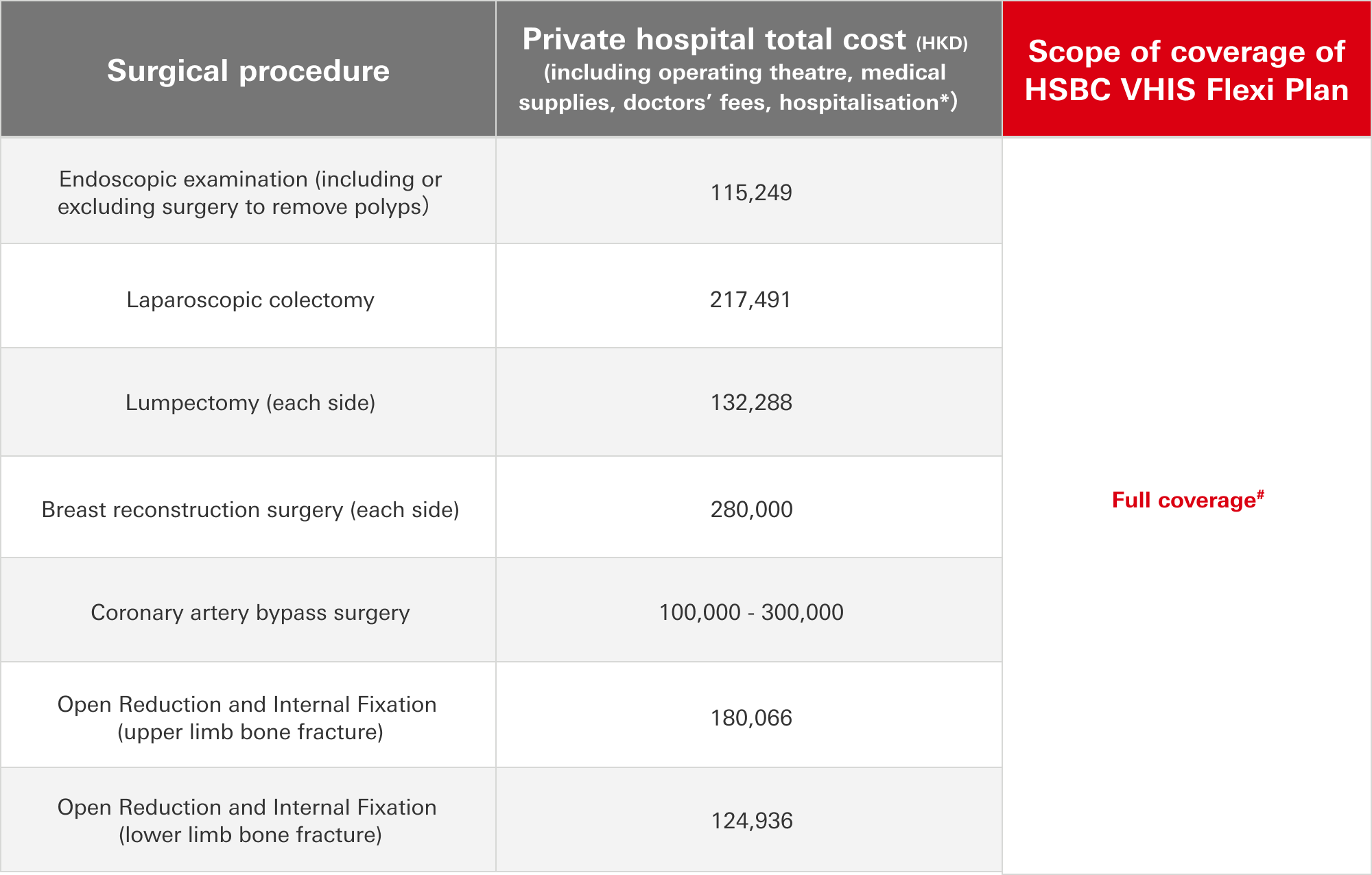 *Doctors' fees include surgeon's and anaesthetician's fees; hospitalisation charges include hospital bed, medications, injection fees, examination fees, costs of treatments and relevant medical supplies, meals and miscellaneous charges.
Non-surgical treatment at private hospitals
In recent years, some cancer patients have turned to targeted therapy and immunotherapy for their treatment. Targeted therapy can reduce side effects but is quite expensive. Currently, the price range for targeted therapy at a private hospital is quite broad, from HKD10,000 to HKD380,00010. The median treatment duration is 47 months11. A budget for this type of treatment should take into account the type of medication, its dosage and frequency. These factors vary from patient to patient. For details, please seek advice from your doctor.
Costs of targeted therapy in Hong Kong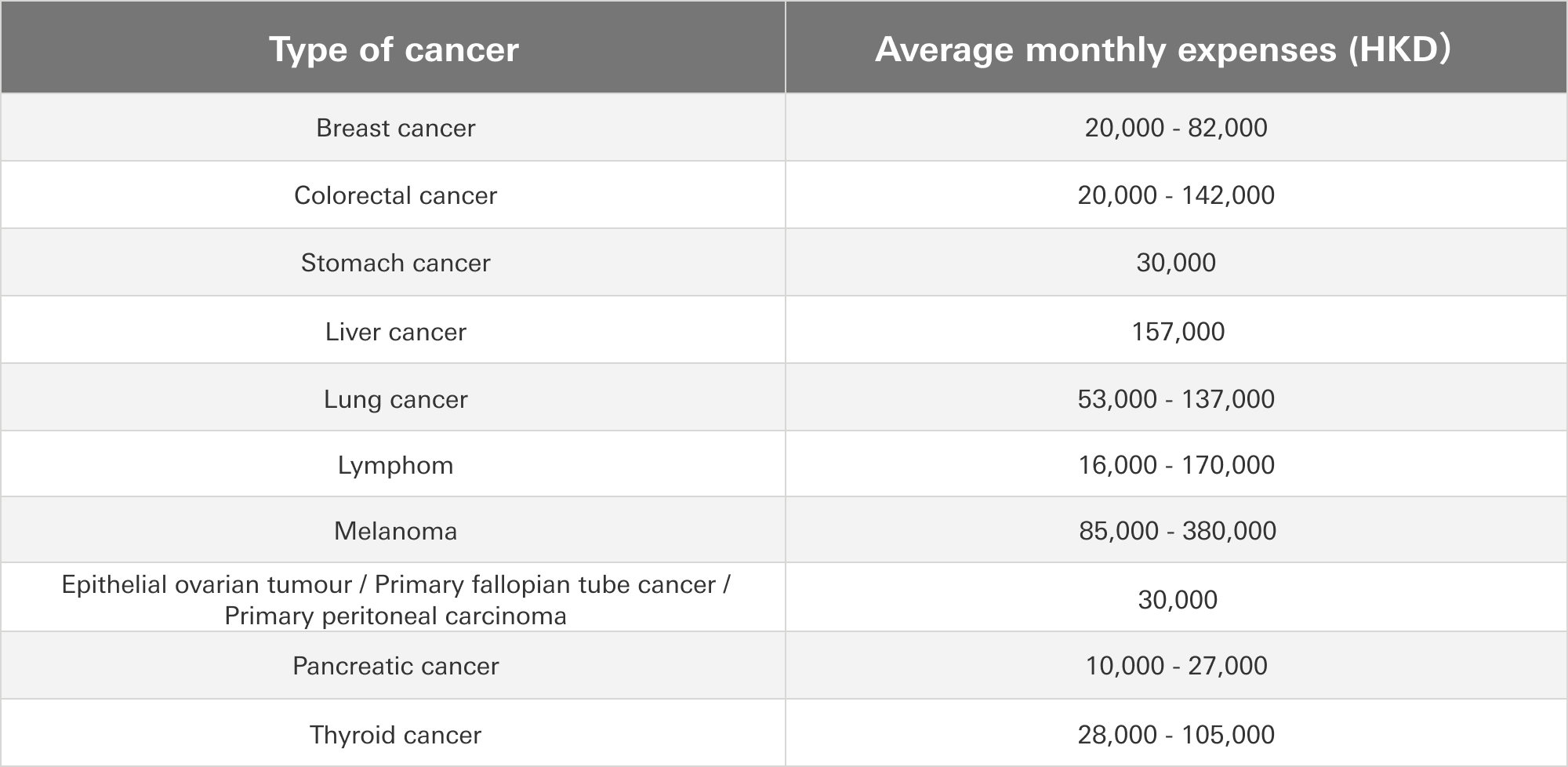 Immunotherapy costs HKD60,000 to HKD70,00012 every 3 weeks, which adds up to over HKD1 million per year. Patients survive for an average of 48 months13. When choosing a VHIS plan, pay particular attention to the scope of coverage. There are VHIS plans on the market covering both surgical and non-surgical treatments (including targeted therapy, immunotherapy, etc.) to provide extra support.

Modern medicine has led to advances that can help fight diseases effectively, but the costs can add up to a lot of financial pressure for patients and their families. To protect your loved ones, start planning early and prepare for the unexpected. Other than surgical fees, there are additional things to consider when choosing a VHIS plan, such as deductibles, waiting periods and exclusions. Our LIFE Talk series will cover these in more detail.
#Full coverage refers to the eligible expenses and other expenses as specified in the provisions for HSBC Life VHIS Flexi Plan.
Sources:
HSBC Life Protection Booklet: Awakening to a New Health Consciousness.
Hospital Authority: Hong Kong Cancer Registry data.
Hong Kong Adventist Hospital: Reference Charges for Common Surgical Procedures, Standard Room Charges 2020.
Civil Service Bureau: List of surgical procedures.
Hospital Authority (Section 113) Amendments of services charges.
Hospital Authority: Charges for medical services.
Hong Kong Breast Cancer and Disease Centre: Costs of breast cancer surgery – is surgery expensive? Is it covered by medical insurance?
Sing Tao Daily: Private hospitals launch 'pandemic special' bypass surgery, packages start at $60,000, similar to public hospital charges.
10Life: Comparing VHIS plans, VHIS Flexi Plan ratings for new season released.
MoneyHero: Targeted therapy for cancer/prices/side effects and eligibility for government subsidies 2022.
Yahoo! News: Early-stage symptoms not pronounced - 60% of lung cancer patients receive late-stage diagnosis! New targeted therapy prolongs survival by close to 4 years.
Ming Pao: Immunotherapy medications cost over $1 million a year, mostly self-paid.
AM730: Immunotherapy for Stage 3 lung cancer prolongs survival.
Comments
Post a comment