VHIS plan – Why pay a deductible?
When you buy medical insurance, you're buying the peace of mind of knowing that you're shielded from unexpected medical expenses. But some VHIS plans include a self-paid deductible. What are the benefits?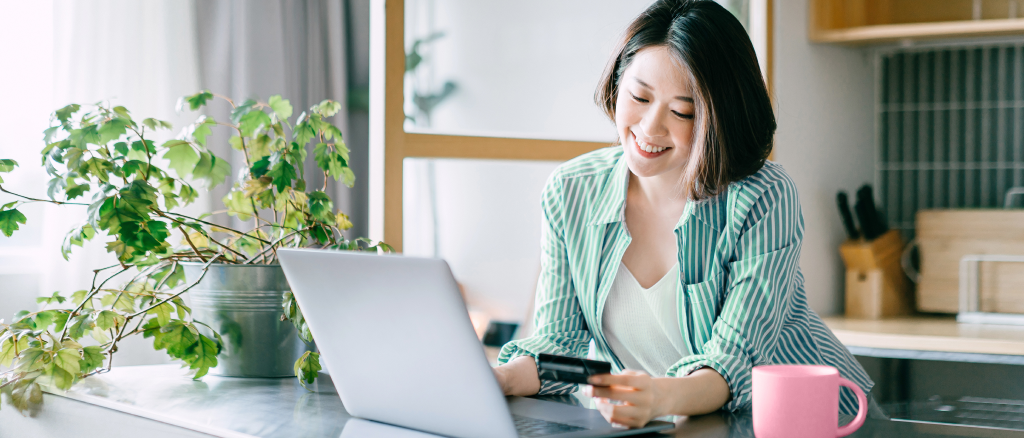 What is a deductible?
With some medical insurance plans, you are required to pay a portion of the cost of the insurance yourself, with the balance covered by the insurance company.
Why pay a deductible?
You purchase a VHIS plan to reduce your exposure to unexpected medical expenses. By the same token, insurance companies use deductibles to lower the risks to which they are exposed. If you are willing to pay part of the cost of the insurance, the insurance company will be responsible for a lesser amount. Since it's then less risky for the insurance company to provide you with protection, the premiums you have to pay for that protection will also be lower.
Who should choose VHIS plans with deductibles?
If you have a group medical plan or a basic medical plan, a VHIS plan with a deductible is a better option for you.
A group medical plan may not provide all the protection you need. According to the Hong Kong Federation of Insurers' Medical Claim Data Survey 2019, group medical plans in Hong Kong cover only 64% to 75%1 of hospitalisation and surgical expenses, which means employees often have to make up the shortfall themselves.
If you maintain a group medical and VHIS combo, most of your expenses in a medical situation would be covered by your group plan while your VHIS plan would take care of the rest. Since a VHIS plan with a deductible has lower premiums, it would allow you to prepare comprehensive protection for yourself with less money.
1First, make a group medical claim to cover your medical expenses

2Then make a VHIS claim to cover any remaining amount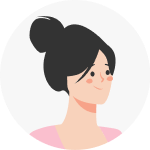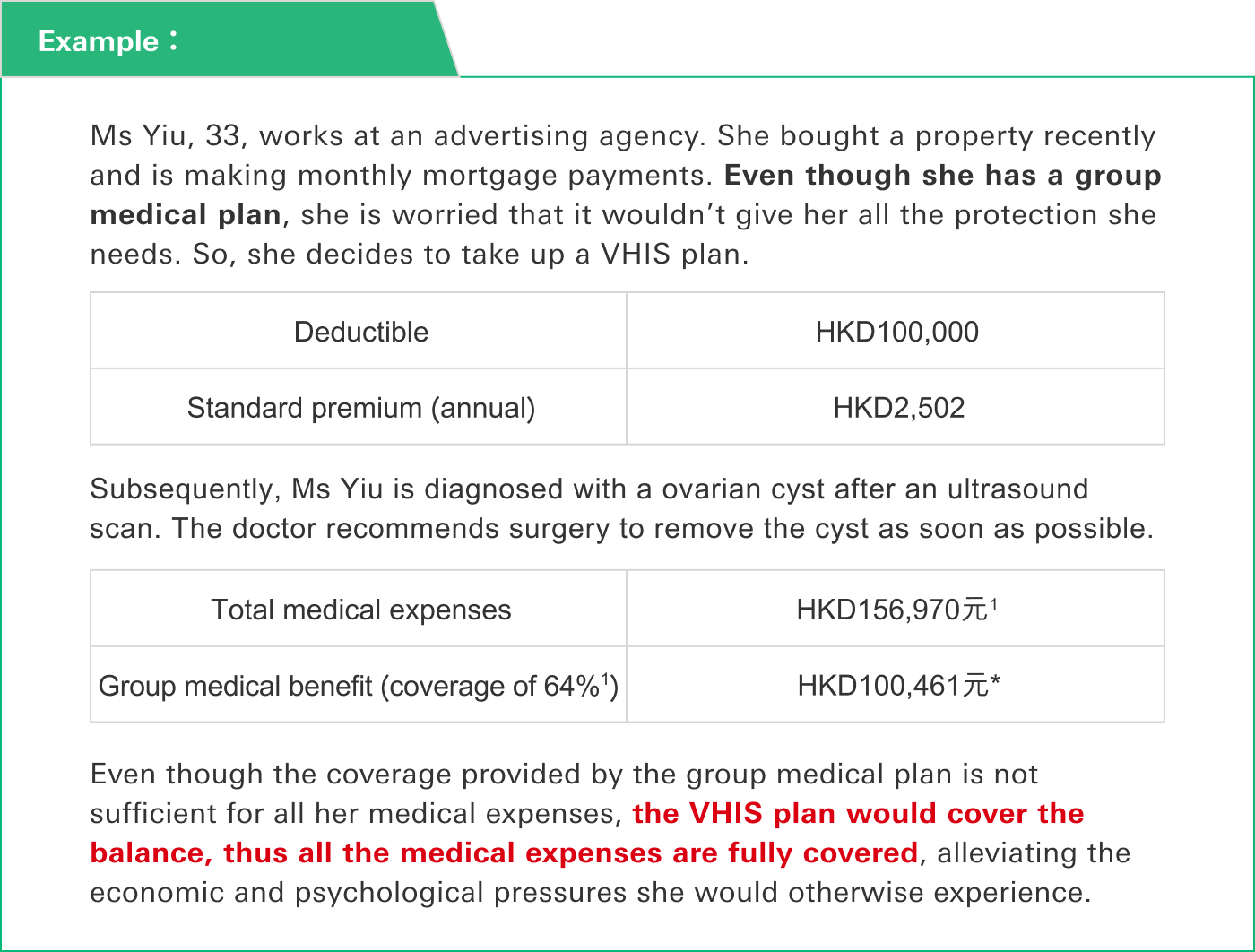 How does VHIS plan lighten Ms Yiu's financial burden?
Ms Yiu's VHIS plan


As we can see, acquiring a VHIS plan with a deductible enables Ms Yiu to fill her protection gap and ensure that any potential medical expenses would be taken care of, leaving her plans and mortgage payments unaffected.
Moreover, taxpayers with VHIS plans qualify for tax deductions. If they purchase VHIS plans for themselves and their family members, each plan will entitle them to an annual tax deduction of up to HKD8,000. There is no limit to the number of plans they can get.
Choose the deductible that's right for you
If you want to buy medical insurance to avoid having to shoulder substantial medical expenses and you can afford a small payment of HKD10,000 to HKD20,000, you may want a VHIS plan with a deductible of less than HKD20,000.
If your existing medical coverage can offset medical expenses of approximately HKD100,000, then a plan with a HKD100,000 deductible is worth considering. These plans are more affordable, allowing you to enjoy extra protection at lower premiums.
The VHIS plans currently on the market come with different deductibles. With HSBC VHIS Flexi Plans, for example, you can choose from three deductible amounts - HKD16,000, HKD50,000 and HKD100,000 – to suit your needs and budget.
Generally, the higher the deductible, the lower the premium. Conversely, a lower deductible means a higher premium. But that also depends on the type of plan you have and the scope of coverage.
Advantages of a VHIS plan
Many people think that, with group medical plans and VHIS plans, it's an either/or proposition. You only need one. Otherwise, you'd be overlapping resources. In fact, the two kinds of plans complement each other. Below is a list of common medical problems and how HSBC VHIS Flexi Plan can help you cope with them.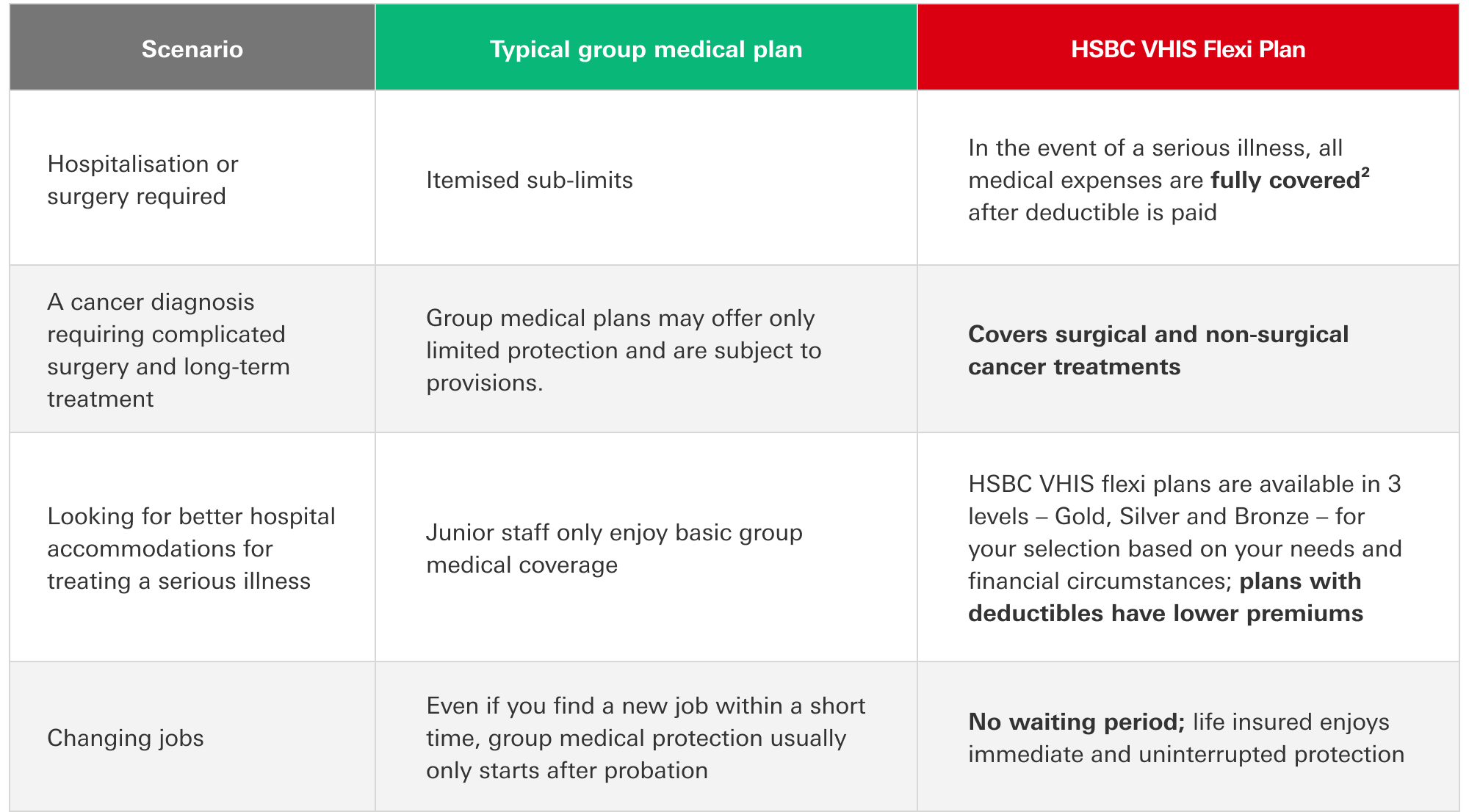 Deductibles are an effective way to manage the risk of incurring major medical expenses. As long as you know what you need, you can reduce the cost of your insurance protection by taking up a plan with a deductible.
Hong Kong Federation of Insurers, Medical Claim Data Survey 2019.
Full coverage shall mean the actual amount of eligible expenses and other expenses charged and payable in accordance to the terms and benefits of HSBC VHIS Flexi Plan.
Union Hospital website: Fees for common surgical procedures, July 2021 – December 2021.
Comments
Post a comment