If you've been looking at loan ads recently, you've probably seen the message "Borrow only if you can repay!". This is, no doubt, wise advice. Not only should you assess your ability to repay your loans, an understanding of which loans you should apply for is just as important too.  Let's start with two common loan types in the market - installment loans and revolving loans.
Installment loans
If you're all about playing it safe with a certain budget, then this is the loan for you. An installment loan has a fixed repayment period as well as a fixed monthly repayment amount. Generally speaking, these loans offer up to 60 months of repayment period. But, you have to be mindful about the loan tenor as longer repayment period will incur extra interest and you may also require to pay an additional handling fee for early repayment. What if your financial circumstances change and need extra cash flow? Some installment loans allow customers to redraw the repaid amount without the need to reapply.
Revolving loans
If you were only looking for emergency cash, or a loan that you're confident to repay in a short period of time, then the revolving loans would be a better option for you. Without any fixed repayment amount or period, you can withdraw cash or repay whenever you prefer; simply repay the minimum amount of 2% to 3% of the outstanding balance each month and you'll be good to go. As oppose to an installment loan, you can settle the whole amount in one go without incurring any extra charges as the interest is calculated on a daily basis. Better still, your credit limit will be restored automatically after each repayment. However, interest rates for revolving loans are often higher than installment loans, and you'll need to pay an annual fee for the facility.
Which kind of loan is the most suitable?
There is no definite answer as it depends on your situation. Let's take a look at Roy and Mat's examples:
Both are about to get married and need extra cash for their wedding expenses.
Roy and his fiancée decided to have their wedding overseas. They estimate the total cost of airline tickets, photography, wedding decorations and outfits will be around $300,000. As the wedding will not take place in Hong Kong, they are only inviting their closest friends and relatives, and hence not expecting to receive much cash subsidies from their wedding gifts. Roy has around $150,000 of savings and can afford to pay back around $7,000 a month for a loan.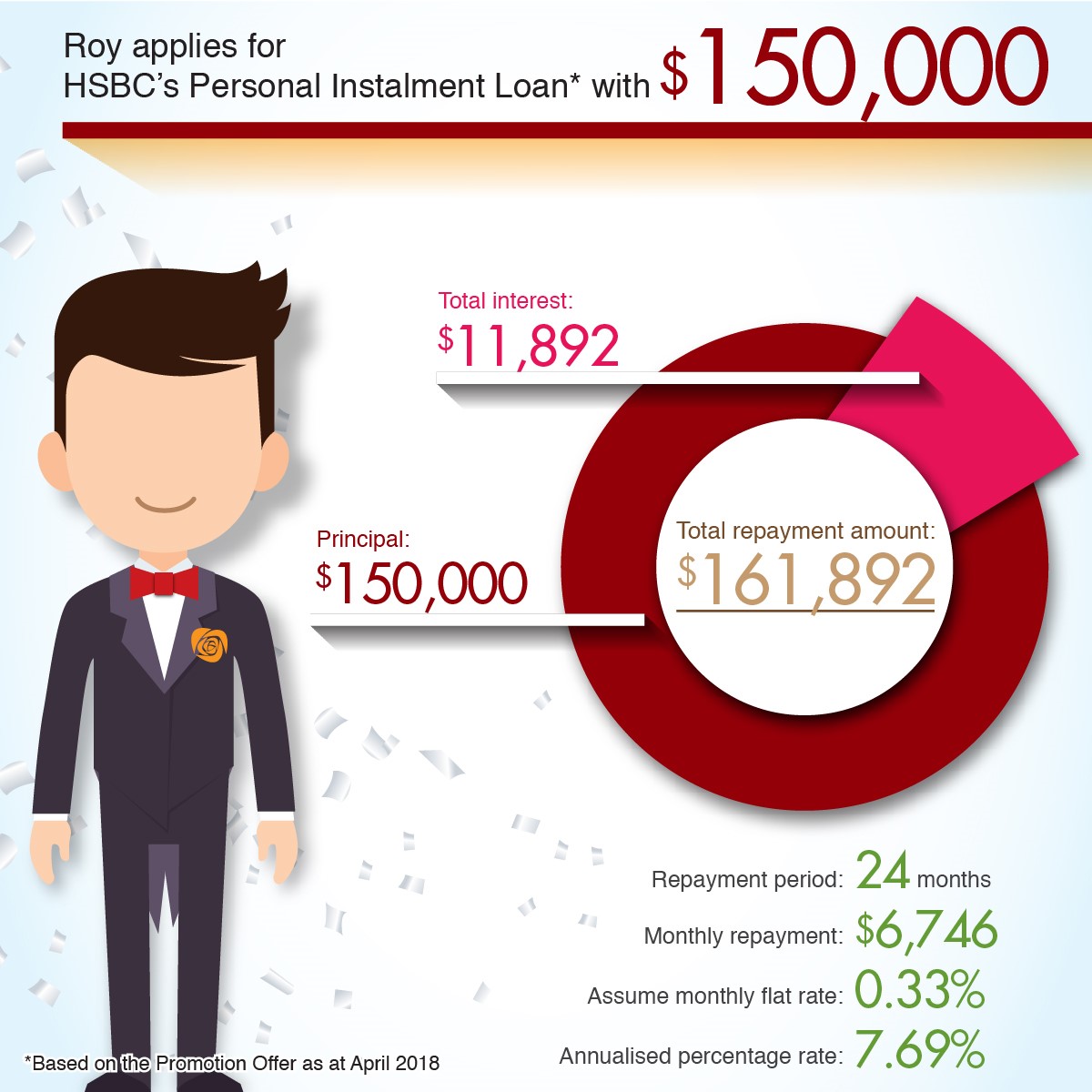 As for Mat and his future bride, they prefer to throw a massive wedding banquet in Hong Kong, with the same price tag as Roy's of $300,000. As Mat has more savings, he only needed to loan an extra $80,000, and since the cash subsidies from the wedding gifts could also ease some of his monetary worries, he expects to repay everything within a short period.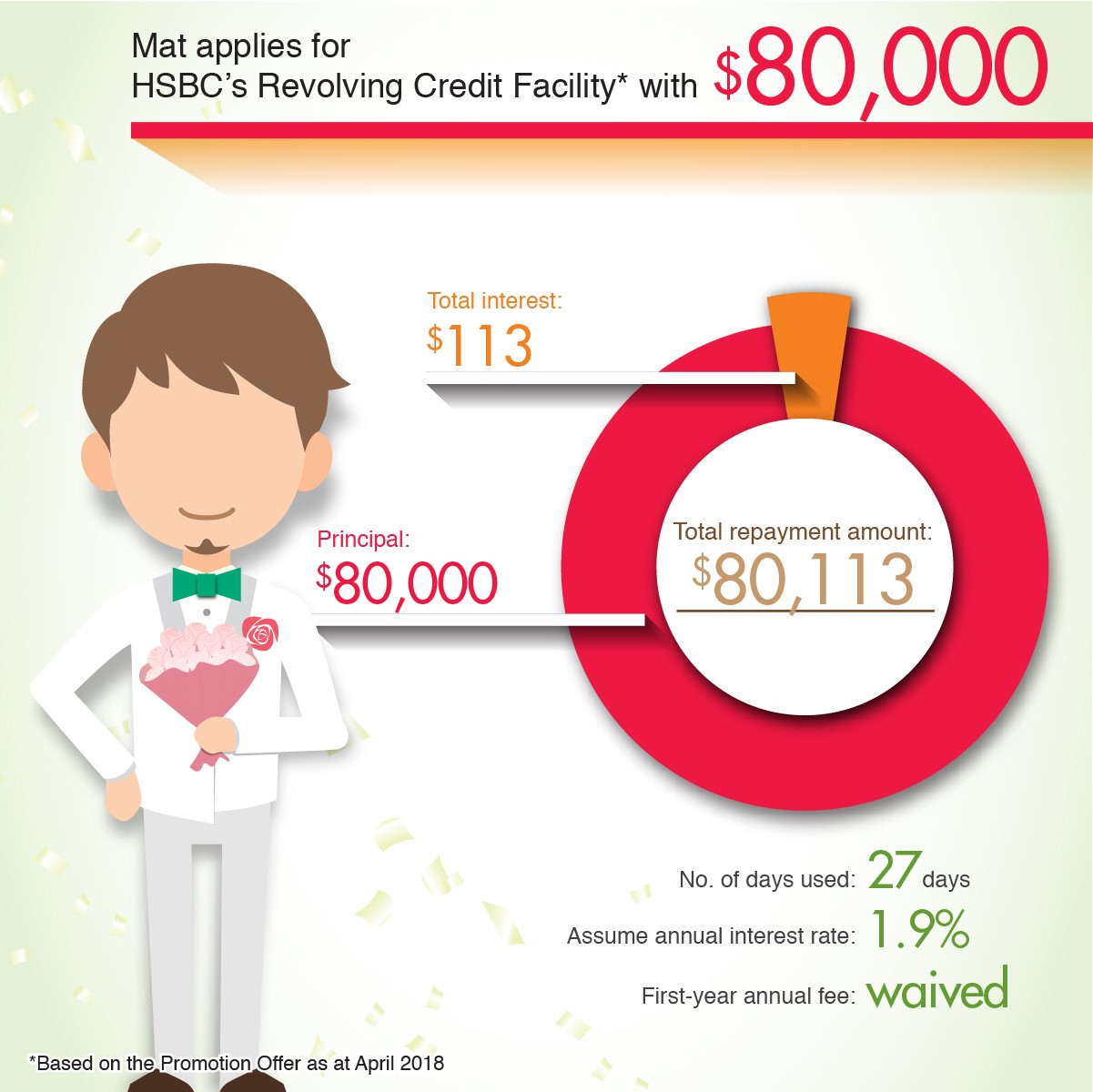 If your situation is similar to Mat's, whereby the loan amount is not particularly high, and you'll be able to repay within a short period, then the revolving loan may be your preferred choice as the interest is calculated on a daily basis. Unlike the installment loan, you can definitely save on interest. But bear in mind, most revolving loans only provide low interest rates for the first 3 to 6 months, therefore you have to ensure that you can pay back within that period, or else interest expense may end up considerably higher than an installment loan.
On the other hand, if you find yourself in more of Roy's situation, where your loan amount is quite large, and you would prefer a fixed repayment amount and period, an installment loan may be a better option for you.
To find out more and understand which type of loan is best for you, feel free to contact us at 2748 8080, or you can apply directly online. It's easy and convenient.
To borrow or not to borrow? Borrow only if you can repay!