Why is risk diversification so important? Historical evidence suggests that no investment tool can sustain an upward trend forever. For example, in the figure on the right detailing the annual performances of different classes of equities and bonds, it is apparent that no single asset class consistently outperforms the market in the long run.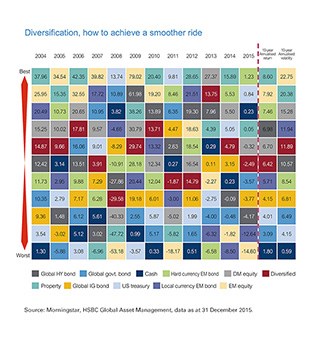 Although short-term volatilities are common in the investment world, a good asset allocation strategy can help improve your investment return in the long run. When investors are developing their own long-term investment strategies, they are advised to diversify their investments across different asset classes to balance risks and return. In addition, they should keep an eye on the latest market trends and adjust the allocation of assets as and when new investment opportunities arise from short term volatilities.
Performances of asset classes vary under different market situations and economic cycles. For example, in the aftermath of the 2008 financial tsunami, governments around the world pushed out quantitative easing programmes to stimulate stalling economies. After the global economy hit rock bottom, emerging market equities witnessed the strongest recovery trend on the back of large-scale capital inflows. In 2009 and 2010, emerging market equities outperformed with remarkable returns. However, in the shadow of the European debt crisis, the uptrend reversed in 2011 due to elevated valuations and weak investor sentiment. Emerging market equities retreated 18.2%* in 2015, nearly erasing the gain accumulated since 2010.
In contrast, hard currency emerging market bond was the runaway winner in 2010, overpowering emerging market equities with a compelling return of 8.5%*. Based on the above situation, if investors have diversified in stocks and bonds, and have timely reallocate their asset by trimming equity positions and shifting to bonds after taking profit from the stock market rally, the negative impact from market volatility on portfolio performance could have been minimised.
The above case study on stocks and bonds is a simplified illustration of the benefits of diversification. Investors should formulate their own multi-asset allocation strategies based on their needs and risk tolerance. Each asset class, be it equities, bonds, currency or property, comes with its own merits. While investing in a wide range of assets helps to diversify risks, one must be reminded that a multi-asset strategy does not mean "the more the merrier" – bad investment choices still drag on performance and add to transaction costs.
* Source: Morningstar, HSBC Global Asset Management, data as at 31 December 2015
Continue to the next FinFit Training
More FinFit trainings
In partnership with Hong Kong Ecnomic Times Supplement Team